Mexican importers are pleasantly surprised with Ciudad Real wines, "tremendous quality at competitive prices"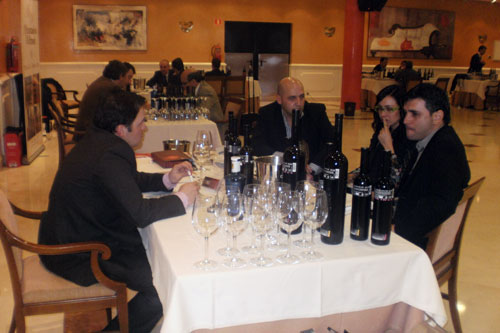 Image of the meetings held this Tuesday between Mexican importers and Ciudad Real wineries
The wineries participating in this reversed mission that FENAVIN and the Ciudad Real Chamber of Trade and Commerce have organized have also perceived "very good feelings" in their contacts with the greatest importers from Mexico
23.02.2010 |
"Surprising", "exceptional quality", "with many possibilities" or "true enological jewels"… are just a few of the descriptions that the Mexican importers participating in the reversed mission organized by FENAVIN and the Ciudad Real Chamber of Trade and Commerce pronounced on the wines that the nineteen Ciudad Real wineries proposed on this first day of work.
So much so that entrepreneurs such as Bernardo Arce and Arcelia Gómez, of Viparmex, are absolutely convinced that "we will most definitely be doing business". Both have shown to be very pleased with the wines they tasted, "many of which surpass the quality of other wines from the Priorat, Ribera de Duero or Rioja, and yet at reasonable prices". Arce even recognized that in a blind taste test "I would have thought that a few of them were great wines from areas that are far more renowned".
Mauricio Otegui, Director General of Comercializadora Mexport, which sells Enate in Mexico and is in search of great quality wines that are good value for money, also expressed himself in similar terms, assuring that "I have indeed found what I was looking for". Hence, he underlines that the Ciudad Real wines have great possibilities in the three to four euro wine sector, in which Chilean and Argentinean wines are already positioning themselves.
Agustín Domínquez, Delegate in Mexico for FENAVIN and España Original, also underscores this opportunity for the province's wines, adding that "if they find good wines at this price, the Mexican market may just be absolutely suitable for their exporting".
Pedro Fernando Poncelis, renowned sommelier of the Intercontinental Hotel in Mexico City, tripped all over himself praising the wines he had enjoyed the opportunity to try. Thus, despite acknowledging that Manchego wines are not very well known in the Central American country - or in North America for that matter, as mentioned by some of those interviewed -, he assures that the impression he takes with him of the wines he has tried is a "fabulous impression" amongst which "true enological jewels" are to be found.
This is exactly the reason why Poncelis has "no doubts whatsoever about the possibilities of Ciudad Real wines, not only in Mexico, but in the whole world due to their enormous variety and quality". In this sense those purchasers that have been consulted are convinced that events such as this one will insure that the importance of Ciudad Real wines will increase considerably in the volume of Spanish wine exports to Mexico.
The Ciudad Real winemakers believe in the possibilities of their wines
On their part, winemakers participating in the mission that have been interviewed, despite being aware that putting the finishing touch on a business deal is anything but easy and requires many contacts, conversations and time, have perceived "very good feelings" in this first day of work at the capital's Guadiana Hotel.
Thus, Fernando Castro, main representative of the wineries that carry the name of Santa Cruz de Mudela, is absolutely convinced that "many of us who are here will indeed reach business agreements". In his specific case for example, "the operations are quite advanced", although they are also the outcome of contacts we had already made.
Castro, who highlighted the good organization of this mission and the opportunities it offers to work this well "despite how exhausting it is", sells 80% of his production abroad, circumstance in which many of the winemakers that were present coincide, as is the case with Bodegas Lahoz, whose spokesperson Agustín Ferrín assures that "it is currently easier to sell abroad than on the Spanish market". Due to this reason, even though his main contacts are European, he has perceived "the high level of professionalism and the fabulous possibilities" among the Mexican importers.
Daniel Lulla, representative for exporting at Vinícola de Castilla, is convinced that more than one business deal will be reached after these first encounters. In his opinion it is very important to maintain the prices, to insure that they do not "drop" while also maintaining the quality and image "because we are after all still cheaper than Rioja wines".
The representative for exporting at Bodegas Navarro López, in Valdepeñas, Ruedi Wildbolz, highlighted the interest that the Mexican purchasers showed in opening other markets, and the attention they paid to his wines, although he also acknowledged that reaching good business deals requires hard work, as "a first yes does not necessarily always mean yes".
On his part, Ángel Bernal, of Bodegas Bernal García Chicote, highlighted how easy and comfortable it is to work with this system of programmed business dates that the mission has established and that also works beautifully at FENAVIN, trusting that in view of the recognition received this morning at the different tasting sessions, business agreements will indeed be reached.
Mercedes Molina and José Miguel Ugena, of the winery Viña Obdulia in the town of Pedro Muñoz in Ciudad Real, also took good advantage of the work session, showing themselves to be very satisfied with the compliments that their wines received.
The participating wineries that will be welcoming Mexican purchasers interested in their 'domains' this Wednesday define the National Trade Fair on Wine in glowing terms, as for some, such as Agustín Ferrín of Bodegas Lahoz, "it is one of the most important trade fairs in the world, because it is not concerned with image, but rather with business".
FENAVIN's organization is precisely now fully immersed in the process of preparing the España Original 2010 Trade Fair, which will be taking place on the upcoming dates of May 11th to the 13th.