The 172 international buyers brought in by the IPEX make between 2500 and 3000 contacts on the first day of FENAVIN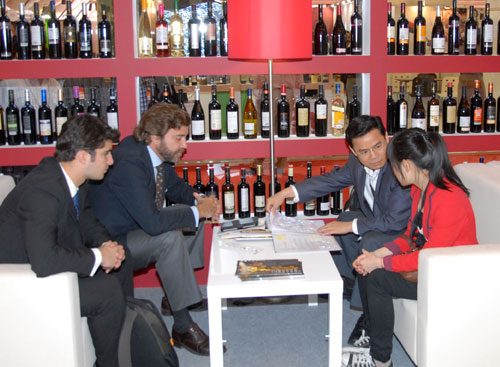 The Representative for Promotion of Wine of the Institute for Foreign Promotion of Castilla-La Mancha, Quintín Villamayor, highlighted the fact that all the initial forecasts have been exceeded by far, this in the number of importers, as well as in the number of contacts and orders that were made
11.05.2011 |
The Institute for Foreign Promotion of Castilla-La Mancha (IPEX) has recorded between 2500 and 3000 contacts on the first day of FENAVIN, the same made by the more than 170 international buyers that the institute has brought in to the trade fair and by the exhibitors and wineries that are present at the fair. This result, in the words of Quintín Villamayor, Representative for Promotion of Wine of the IPEX, which depends on the regional Government, "is indeed quite profitable, even more than in any other edition, this in that pertaining to the greater number of buyers, as well as the orders that have been made on this first day of the trade fair."
The IPEX's representative also highlighted that all the forecasts have been exceeded. The goal was to gather together between 140 and 160 buyers, and we have finally been able to bring in 172 importers from China, Taiwan, Hong Kong, Singapore, Philippines, Vietnam, Russia, Canada, Columbia and Puerto Rico, although most of the importers that the IPEX has been calling in are from China, Hong Kong and Taiwan, reaching the figure of 86, apart from Russia with 19 buyers and Canada with 18.
According to Villamayor, the Asian, Russian and Canadian markets are the most important destinations and the ones where Spanish wine is enjoying great success, "success that walks hand-in-hand with projection of the Spanish wine sector in these economies, in particular in China, "where spectacular growth of the wine market is being seen."
The IPEX's expert explained that there are two types of buyers: those in search of a very good quality-price ratio, "something that is a perfect fit for Spanish wines and, more specifically, for Castilla-La Mancha wines", and another group that is in search of very low cost wines, at more competitive prices in order to discover daily consumption, wines that are not necessarily reserved for special moments.
For example, he mentioned, the Russian market is showing great interest in economic wines at about one Euro a bottle, "although we also find buyers interested in premium and high-end quality wines, and above all buyers interested in a very good quality-price ratio." In China this proportion is more balanced out, as some are in search of premium quality, while others are interested in more economic wines in order to reach that part of society that does not have a high purchasing power but that is increasingly more interested in the world of wine.
An average of six to eight meetings on the first day of the trade fair
On the first day of the trade fair the IPEX made an verbal survey among the importers, who pointed out that "on the first day of FENAVIN they had held an average of six to eight meetings with wineries, wineries with which many things can be done." On their part, the exhibitors highlighted how interesting the meetings were, with orders already being made on May 10th, the very first day. In general, Quintín Villamayor said, this trade fair "is turning out to be very profitable, with more than 2500 to 3000 contacts made."
In that pertaining to the great number of Asian buyers visiting FENAVIN 2011, the IPEX's representative underlined that the reason for this number is the interest in the world of wine that the market is showing, "as of 2010 important growth has been seen in the demand and consumption and, more specifically, on the Chinese market, and they have been the ones to say that they personally want to come in to the trade fair, which means that the task was indeed a simple one for us, as they simply knocked on our door saying that they were interested in trying more wines and purchasing more wines."
In his opinion China is a market that is just starting to take-off, despite what is being said, where the great mass of population has average purchasing power, which means that they cannot actually afford very expensive wines, wines that in Spain cost about 15 to 18 Euros a bottle, which once in China would shoot right off the chart in price.
Unbeatable quality-price ratio
In Villamayor's opinion, and recalling what Robert Parker said in Madrid last week, our great advantage is the value we offer, in particular the value that Castilla-La Mancha offers in that pertaining to quality-price ratio, which is really quite unbeatable. Thanks to this ratio that is starting to be known on the markets, in particular the Chinese market, adds the IPEX's representative, we are looking to export wines that have this great competitive edge in order to open markets and promote consumption of wine in the Asian giant.
Quintín Villamayor finished off by commenting that the evaluation that the buyers make of the trade fair, in that pertaining to the possibility of making contacts with the exhibitors thanks to the Contact With… Program, "represents a tremendous advantage for them, because they already have their day fully booked with meetings," likewise highlighting the great level of professionalism, "as both importers and exhibitors underscore that this really is a professional trade fair that is working beautifully precisely because of this reason."